SWS: More Filipinos experience hunger during the 2nd quarter of 2023
MANILA, Philippines — More Filipinos suffer from hunger.
The June 2023 Social Weather Stations (SWS) Second Quarter survey released Wednesday showed that 10.4 percent of Filipino families experienced "involuntary hunger" at least once from March to June 2023.
The figure surpassed March 2023's 9.8 percent but lower to December 2022′ 11.8 percent record.
The 0.6-point rise in the overall hunger rate is due to the increase in the number of times Filipinos were deprived of food in Metro Manila and "Balanced Luzon," SWS said.
Specifically, involuntary hunger rose five points in National Capital Region (NCR).
From 10.7 points in March 2023, the figure went up to 15.7 percent in June 2023.
In various Metro Manila locations,  involuntary hunger rose 2.6 points.
Lack of access to food were also confirmed in places near NCR.
It was at 8.7 percent in June this year, up from 6.3% last March.
On the other hand, the involuntary hunger rate hardly changed in the Visayas.
It was at 9.7 percent in March 2023 and 9.3 percent in June of the same year.
Meanwhile, in Mindanao, the numbers decreased.
Hunger's record fell by 5.4 points in the South, from 11.7 percent to 6.3 percent within the same period.
SWS noted the involuntary hunger rate in June 2023 was 8.3 percent who experienced "moderate hunger" and 2.1 percent who suffered from "severe hunger."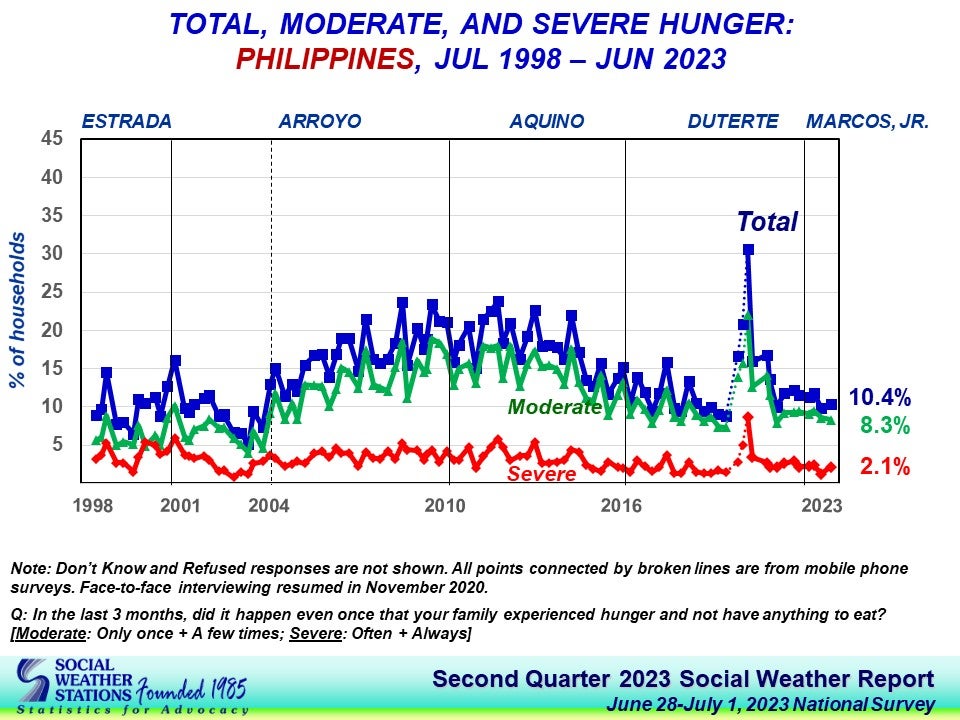 The agency defines involuntary hunger as "being hungry and not having anything to eat."
Moderate hunger refers to being involuntarily hungry "only once" or "a few times" in the last three months.
Severe hunger refers to a condition that persons go through "often" or "always."
The research was conducted from June 28 to July 1.
SWS gathered information through face-to-face interviews with 1,500 adults, 18 years old and above, nationwide.
It involved 600 respondents in suburbs outside Metro Manila and 300 interviewees in NCR, Visayas, and Mindanao.
The sampling error margins are ±2.5% for national percentages.
RELATED STORY:
SWS: Hunger among Pinoy families eased in Q1
APL/abc
Subscribe to INQUIRER PLUS to get access to The Philippine Daily Inquirer & other 70+ titles, share up to 5 gadgets, listen to the news, download as early as 4am & share articles on social media. Call 896 6000.